Reducing distillery water usage by 90% through re-use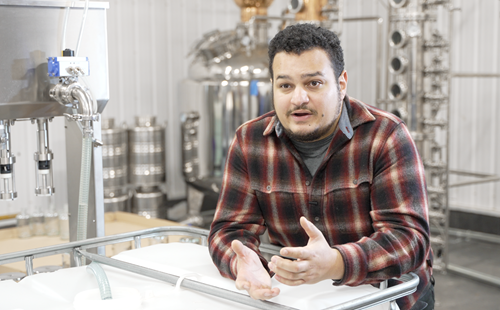 Water is becoming scarcer as a resource. Sebastian Barnick, Director of Pleasant Land Distillery, is installing a heat re-use and water-cooling system that will enable him to close the loop on heat and water use in his distillery processes, cutting the distillery's water usage by 90%.

Impact
This project will enable Pleasant Land to make savings of over £18,000 per year on their two biggest sources of waste: heat and water. Re-using their waste heat is estimated to reduce the distillery's energy needs by 45,000 kWh per year which equates to a cut in CO2 emissions of 8,325kg.

The water cooled in this process can then be stored for re-use and would result in needing only 10% of the water usage compared to other distilleries.
About the project
Growing Green grant value: £8,000
This project expands on the existing closed loop systems that have been installed within the distillery. It involves hot overflow water collected from stills to first be cooled by passing over a heat recovery coil, then collected in a storage tank.

The heat recovered from this water will be used to dry biomass, which will be used as fuel to fire the steam boiler. So, heat and water which were previously lost to the atmosphere or down the drain are all being re-used within the distillery, thus closing the loop.
About Pleasant Land Distillery
Location: Ashford, Kent
Pleasant Land Distillery are passionate about running a fully sustainable business. Their processes are designed as a circular system, their power is produced using 100% renewable sources and their water is sourced through rainwater capture. Based at Bank Farm, they offer in-house contract distilling services, including recipe development and recreation, distilling, fermenting, storage, bottling and labelling.