Insulating an electric van to cut 3000kg of carbon dioxide emissions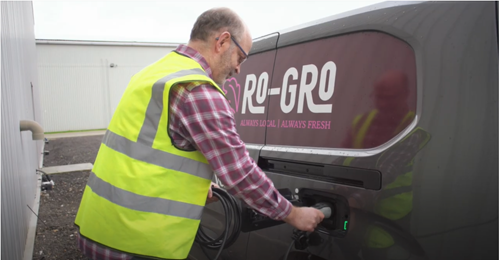 By insulating his electric vehicle and making it fit for transporting fresh produce, Jason Perrot, founder of Ro-Gro, is reducing the carbon dioxide equivalent (CO2e) emissions generated from his delivery operations by an estimated 3000kg when compared to using a diesel van.
Impact
Based on a mileage of 20,000 miles/year, using an insulated electric van will avoid 3,604kg of CO2e emissions per year compared to using a diesel vehicle.


About the project

Growing Green grant value: £5,167.81
With an electric van, there is a trade-off between using the battery for driving and for other onboard processes such as cooling. Ro-Gro's solution of insulating their electric vehicle (EV) will help the business keep their microgreens fresh for deliveries and increase the time the van can stay on the road, since energy will not be needed to keep the produce cool.

The Ro-Gro van is using insulation coupled with freezer blocks that can be fitted into the roof of the van. The blocks themselves can be re-chilled as needed using a freezer on the farm which is powered by electricity supplemented with onsite solar panels, making this a durable, long-term solution.
About Ro-Gro

Location: Sittingbourne, Kent
Ro-Gro is all about growing and providing quality produce to the local area. Based at G.H Dean and Co, Ro-Gro is an indoor vertical farm that believes strong communities are built around fresh and local food. The business has strong sustainability credentials:
40% of the farm is powered through renewable energy
An electric van is used for distribution
All packaging is either compostable or 100% recyclable.