A flavour of West Africa comes to Faversham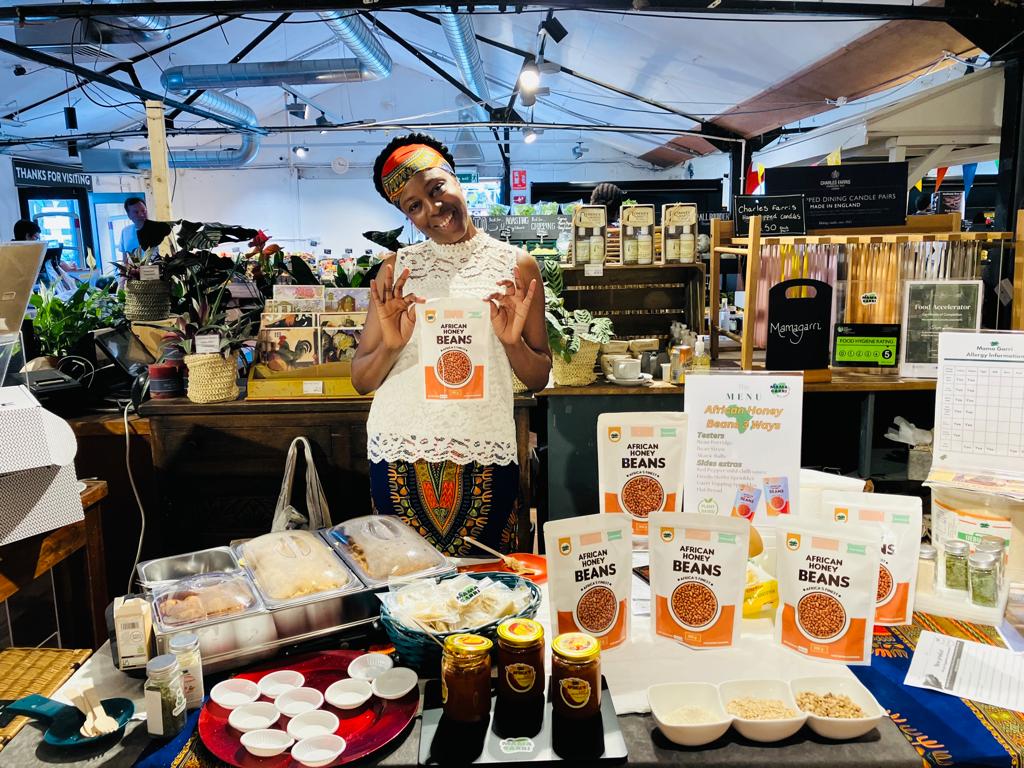 A collaboration between Macknade and our Food Accelerator programme gave visitors to the Faversham-based food hall the chance to taste a bit of African-inspired cuisine.
Ten businesses that are working with Growing Kent & Medway to develop new plant-based products were invited by Macknade to take over their flagship store. The West-African-inspired Food Festival was held on Saturday 16th September.
From sugar-free chocolates, chilli-infused olive oils to bean porridge, there were a lot of tasty treats to try throughout the store. The producers were on hand to teach visitors about African cuisine with demonstrations and information on cooking ingredients, which might not be in your regular weekly food shop.
Valerie Pondaven, our Food Accelerator Programme Manager, said: "Customer feedback is an invaluable tool for food producers as it helps them improve their recipe and their marketing strategy. The visitors at Macknade were keen to taste the products, talk with the producers, and get tips on how to cook African dishes at home. This has given the businesses so much insight into their customers' expectations and where they can improve their products and marketing."
WuraBrew, run by entrepreneur Winifred Ayeni - founder of independent beauty company Erema Botanics, produce African-inspired drinks made from tigernut and hibiscus flower. Following the event, Winifred said, "The event provided me with a unique platform to showcase my African-inspired beverages to a diverse audience in Kent and Medway. The vibrant atmosphere, music, and delicious West-African cuisine created an ambiance that perfectly complemented the flavours of our beverages.
"The feedback from our customers has been nothing short of mind-blowing. Many expressed eagerness to purchase our products and inquired about our launch date. The event served as a testament to the power of community and cultural celebration. It allowed us to not only grow our business but also to share a taste of Africa with the community we now call home. We are excited about the continued journey ahead, and events like these play a vital role in our mission to spread the rich and diverse flavours of Africa."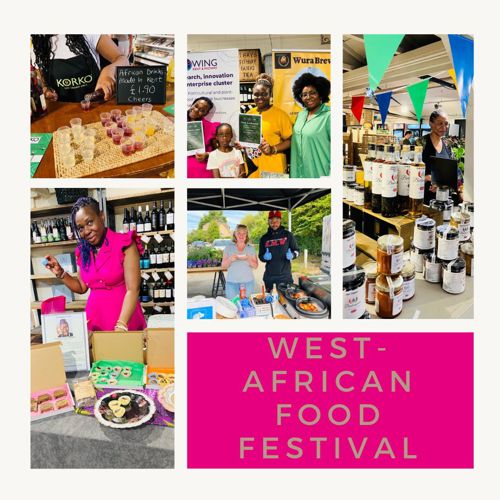 Sonya Okubule, founder of Sonya's Healthy Kitchen, said: "With our sugar-free plant-based chocolates, we were targeting people with diabetes. By speaking directly with Macknade's shoppers, we realised that most people are looking to reduce their sugar and dairy consumption. People who tasted our vegan chocolate could not believe it was sugar-free. Our potential market is so much larger than what we initially thought."
Yeti's Kitchen is a contemporary family-run business specialising in Nigerian cuisine, offering both mobile and in-home dining experiences for small gatherings or large events. Owner, Adedapo Dalley, who had a stall at the festival, said: "It was amazing to get feedback from a different audience on a few of our dishes and put together a day for African food. It was great for feedback and an opportunity to try other people's products and services on the programme." 
The Food Accelerator businesses that took part in the food festival were:
Artisan non-alcoholic drink products, made with a combination of passed-down recipes and drawn inspirations from ingredients and flavours from Africa, including pomegranate, pineapple, lemon and ginger.
Brewing natural non-alcoholic drinks using flowers, fruit, non-dairy product, and spices that are both delicious and nutritious, using ingredients including Tigernut, hibiscus flower, baobab, and pineapple.
 Produce a range of African food products and gifts made from mainly plant-based organic flakes, grains, seeds and flours fused with flavours and spices
Creating chilli products, infused olive oils and condiments.
Yeti's Kitchen is a contemporary family-run business specialising in Nigerian cuisine. With a focus on fresh and high-quality food. Their approach is dynamic, modern, and innovative, offering both mobile and in-home dining experiences.
Showcasing chocolate with African superfoods and spices for healthier snacks. The sugar free plant-based chocolate is suitable for diabetics and contains just natural ingredients.
Kwambora offer a range of hot sauces, suitable to cook with vegetables, chicken, beef, prawns & salmon. Packed with loads of flavor and aromatic spices and made from 100% Authentic Homemade African Recipes

If you're a plant-based food or drink business and looking for help to scale-up or take a new product to market, get in touch to see how our food accelerator could help.