Food to survive or food to thrive?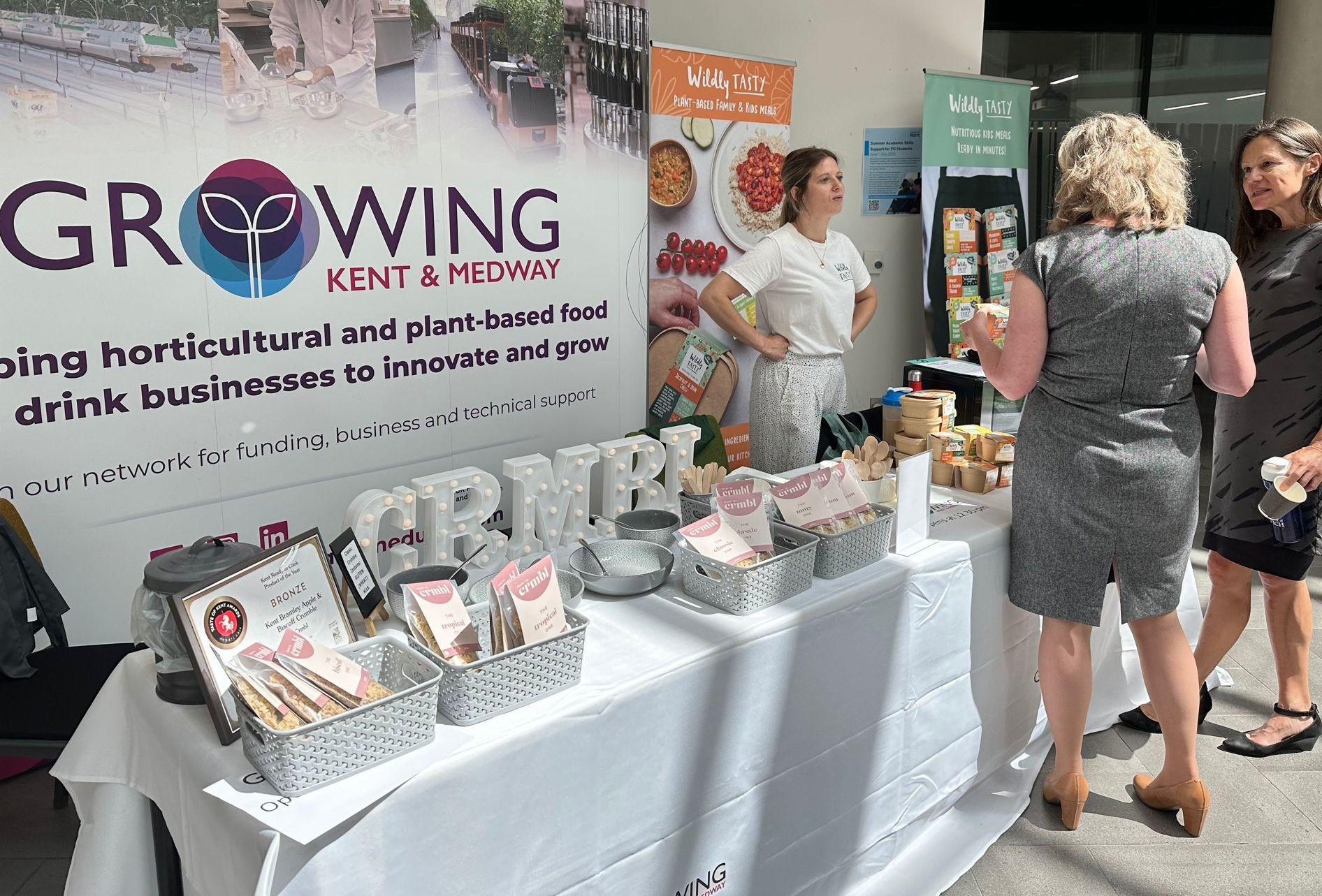 With rising populations and increasing pressure on the land used for growing food, is it possible to have sustainable food systems that can feed the population, whilst allowing both humans and the environment to flourish and thrive? The importance of investing in sustainable, nourishing food was a theme that ran through our first Member's Showcase Day, with our speakers, exhibitors and researchers highlighting this issue.
On Wednesday 21st June, Growing Kent & Medway brought together members, researchers, business experts, and funders to celebrate the sustainable innovation being supported by the programme.
It was an opportunity to explore how collaboration between businesses and research can drive innovation and transform the way we grow, produce, and distribute food in both Kent and the UK.
An issue that arose throughout the day centred on the question of whether it is enough that the food we eat delivers our basic energy and nutritional requirements, or if is possible to have a more harmonious relationship between our food systems, our health, and the environment.
Agri-technology, food systems, and the race to net-zero
We need to move from highly productive, high-input monoculture farming systems, which produce a single product category, to diverse, lower-input systems that create many different products, without losing their productivity. This is the challenge that drives investment into the development of new technology systems, as outlined by Dr Katrina Hayter, Executive Director, Healthy Living and Agriculture at Innovate UK, our keynote speaker.
The key to the innovation required to create these new technologies is, Katrina argued, through collaborative partnerships between businesses, technologists, researchers, and the customer. 
Launched in 2018, Innovate UK's Transforming Food Production programme is investing up to £90 million to feed a growing population and reduce carbon emissions. Putting business and collaboration at the heart of its strategy, Katrina shared several examples of successful innovation, including a project on insect proteins. 
Commercial-scale insect production to feed livestock has the potential to offset the environmental impact of existing feeds, like soya and fishmeal. Using black soldier fly larvae as a protein source, which are fed with food waste that would otherwise be thrown away, is a promising new solution. Innovate UK recently awarded £5.9m to a consortium led by Entocycle, which included genetics specialists Beta Bugs, researchers at the University of Sterling, and the end-customer, Tesco, to develop the agri-technology needed to grow this sector at scale.
This sustainable circular system is also used at Re-generation Earth, an organisation that helps land managers reduce their carbon emissions, without greenwashing through dubious carbon offset schemes. Co-founder Doug Wanstall explained in our morning session that at their site in Sittingbourne, Inspro, an insect farm, collects waste food material from an on-site distillery to feed their black-soldier flies. The larvae are then used to feed the poultry at the farm, and the frass, or insect poo, is used to fertilise the farmland.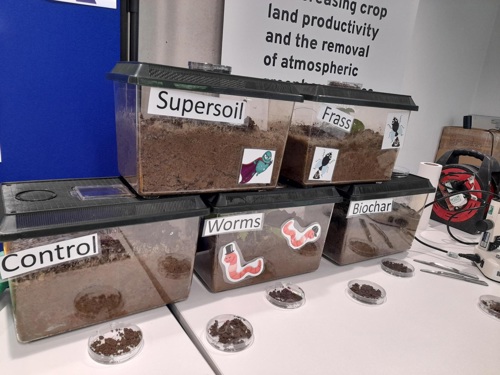 Sustainable land use and alternative farming systems
G H Dean is a mixed farm, also in Sittingbourne. Their recent collaboration with Ro-Gro has seen the installation of a 40-foot container on unproductive land for vertical farming, as part of their journey to net-zero. Farming micro herbs and greens, Jason Perrott, MD of Ro-Gro shared with the audience how they can supply crops year-round to local markets, using 90% less water and fertilisers, and requiring no crop protection chemicals. With funding from Growing Kent & Medway, Jason is currently working with NIAB to develop an organic fertiliser for use in their innovative aeroponic system, developed by LettUs Grow.
Kent-based seaweed innovators, Nutri-San, put the health of animals, humans, and the ecosystem at the heart of its operation. Their seaweed, used as animal feed, is harvested using the UN's Sustainable Development Goals, providing livelihoods for marginalised communities - 98% of their workforce are women. They only cultivate native species and are working to eradicate microplastics by using eco-friendly materials.
During her insightful talk, Dr Michelle Marin Chau, Co-founder and Communications Director for Nutri-San, explained how they're now working with the Biotechnology Hub at the University of Kent to find alternative uses for their by-products. Waste seaweed from their processing is being tested as a bio-stimulant for plants. They are collaborating with Re-generation Earth to test how beneficial it could be to our growing systems. Nutri-San is also working with the team at the Biotechnology Hub to look at the potential for the extraction of high-value compounds for use in medicine and health.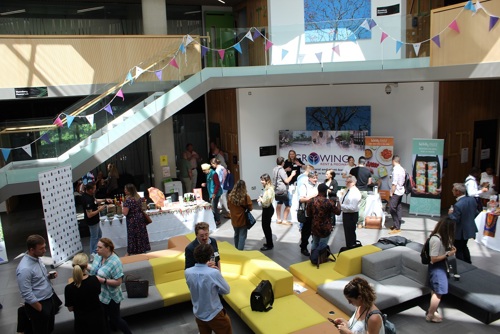 Food for thought, and health!
Recently awarded an honour for her services to business and enterprise, Nimisha Raja MBE, founder of Nim's Fruit Crisps, described how health and sustainability were at the heart of the original business idea.
Her innovative air-dried crisps were created with a desire to provide children with a nutritious snack alternative. They use the whole fruit or vegetable, including the cores and peels. Not only is this where the main nutritional value can be found, it also reduces food waste. In fact, they have recently been accredited as a zero-waste business. A use is found for all of their ingredients, creating new markets and revenue streams. Supported by our net-zero training programme 'Growing Green', Nim's invested in a grinding machine to turn pineapple skins into powders for use as a flavouring ingredient for cereals and yoghurts.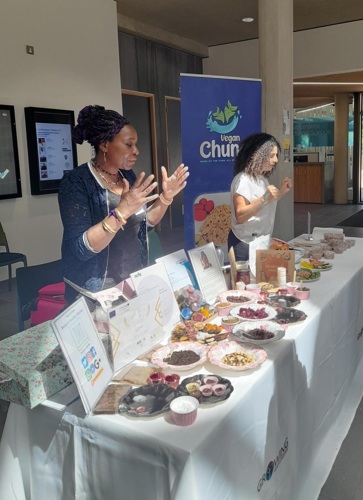 The passion for creating healthy, good food was also evident among our exhibitors, all of whom are taking part in our Food Accelerator programme. Each of the products on display were imagined and developed with the ambition of creating nourishing and sustainable food.
Monya Santos has created Vegan Chuna, a plant-based tuna, using jackfruit as an alternative to the, as she states, ultra-processed options currently available. The product is still in development, and Monya is working with the team at the Medway Food Innovation Centre, to ensure her customers can access nutritious plant-based products that taste good, with the right texture.
With edible fruit teas from Bohemian Treats, sugar-free chocolates from Sonya's Healthy Kitchen and free-from, ready-to-eat crumble toppings, there was a lot of innovation on show that put the consumers' health and ability to thrive, not just survive, at the heart of their business.  
Our first-ever Showcase Day was an inspiring celebration of entrepreneurs and researchers who are thoroughly committed to the idea of sustainable innovation – with the wellness of their customers and the environment at the heart of what they do. The importance of collaboration, between businesses and researchers to enable us to create sustainable food systems was clear throughout.
The Growing Kent & Medway Showcase Day was held at the University of Kent on Wednesday 21st June. The morning session included guest speakers, with networking, business and technical support, and an exhibition zone to demonstrate new products in the afternoon.
To become part of our network and see how we can help your business to thrive, sign-up to be a member.