Growing Kent & Medway Announce a New Sustainability Hub at Fruit Focus 2022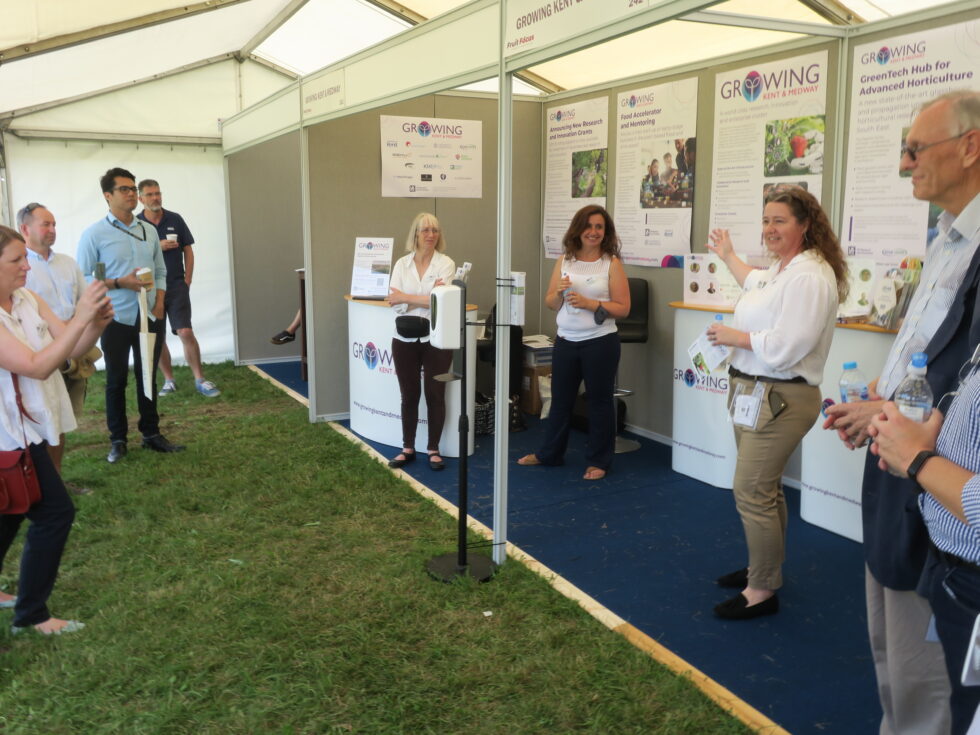 We are delighted to announce that at this year's Fruit Focus, we are bringing a brand-new networking hub to the event. The Growing Kent & Medway Sustainability Hub will welcome businesses of all sizes to use the hub as an informal meeting space to connect with other businesses and research specialists.
You can also find out how our free products and services can support your business to grow, with talks on sustainable innovation happening throughout the day.
The Growing Kent & Medway Sustainability Hub promises to be a central point for your Fruit Focus networking, here is what you can expect during the day:
Sustainability Hub Schedule
9.40am: Accelerating sustainable food and drink innovation - Dr Nikki Harrison, Growing Kent & Medway
Growing Kent & Medway's Programme Director, Nikki Harrison, will share her plans for the enterprise cluster and how businesses across the food and drink supply chain can benefit from tailored support packages. You will also hear about their special interest business networks, designed to coordinate and accelerate innovation in sustainable packaging, the circular economy and the alternative protein sector.
10am: Fast-tracking your food idea to market: Valerie Pondaven and Parag Acharya, University of Greenwich
Are you interested in scaling-up your business fast? Or do you have a new product or service you would like to take to market? Valerie Pondaven will explain how you could benefit from 4-months of intensive business, financial and technical support, expert advice and access to research facilities as part of Growing Kent & Medway. Parag Acharya will discuss the new research capabilities at the Medway Food Innovation Centre.
10.30am: Innovation Showcase: Sustainable Agritech Startups
Dr George Crane, NIAB, introduces five new inspiring startups operating in the agri-food and technology sector. Each business is focused on sustainability and will share how their innovations are revolutionising horticultural production. You will hear from;
Antobot: Developing AI-driven autonomous robotics at an affordable price
Petiole: An agri-tech company developing solutions for plant phenotyping with a smartphone
Lambda Energy: Developing spectral converters to boost power outputs from solar panels and increasing biomass yield in greenhouses
Airponix: Sustainable aeroponic agricultural system
Seeds of Colour: Creating vegan beauty products from high-value plant compounds
The businesses are currently all members of NIAB's Barn4 and Eastern AgriTech Innovation Hub agritech incubators.
11am and 2pm – Join us for a tour of the new GreenTech Hub for Advanced Horticulture
11.45am: Consultation on a skills strategy for the fresh produce sector. Steve Matthews, Locate in Kent.

A new draft strategy to address the skills needs of the horticulture and food sector has been published by Growing Kent & Medway and is now open for consultation. Steve Matthews, Growing Kent and Medway, who researched the issues with sector companies and developed the proposal, will present the Workforce 2030 strategy.

Growers, processors, manufacturers, distributors, and technology companies in the food and drink value chain are encouraged to have their say on the Workforce 2030 strategy and Steve will be available in the Hub following the presentation for discussion.

1.30pm: Mentoring: Getting the right support for your business - Rebecca Smith, University of Kent
Mentoring has the ability to transform both businesses and the people working in them through providing support and sharing experiences. In this talk we explore how the relationship between Mentors and those receiving support benefits everyone and makes a direct and tangible difference to businesses.
Find out more about how Growing Kent and Medway is building a powerful network of experts to drive innovation, growth and success across the region. With practical tips on how you can be involved and make the most out of your mentoring journey.
2pm: 'Growing Green' – moving fresh produce businesses towards net zero – Dr Robert Saville, NIAB
Funded by the Government's Community Renewal Fund, 40 horticultural food and drink businesses are currently on a journey towards net zero thanks to a pilot training programme, Growing Green. Robert Saville will share some of the common challenges facing the fruit sector and share some innovative approaches these businesses are taking to tackle them.
2.30pm: Funding Innovation: Grant opportunities for horticulture – Dr Nikki Harrison, Growing Kent & Medway
Accessing funding for investment in technical research can be challenging, but collaboration between industry and academia is critical to drive innovation in the sector. This session will announce a new collaborative grant competition and provide details on how to apply for vouchers to access cutting-edge research facilities and expertise in the region. You will also hear from previously successful grant winners from the fruit sector on their experience of funding technical innovation.
3.30pm: 'Growing Talent' – bringing new skills to the fresh produce sector – Sapphira Waterston, MDS Limited
The route into fresh produce is not always obvious, and those considering it at a career crossroads may be reluctant to start over and spend time working their way up. MDS Ltd and Growing Kent & Medway have teamed up to create the UK's first regional apprenticeship hub for the fresh produce sector. Growing Talent will work with fresh produce businesses in Kent & Medway to offer ambitious non-graduates and career changers a dynamic two-year paid traineeship.
We look forward to welcoming you on 13th July.
Interested in finding out more about Kent's Fruit industry? 
Extra Tour Day on 12 July with Locate in Kent. 
Locate in Kent, one of the UK's leading inward investment agencies, is inviting businesses in the fresh fruit and wine sectors from across Europe for a tour of opportunities close to NIAB, in support of Fruit Focus. 
Taking place on Tuesday, 12 July attendees will visit key research sites powering innovation in agri-tech, food production and viticulture, including Kent Science Park and the University of Greenwich Algal Biotechnology Unit, as well as meeting key producers in the county over a networking dinner.
Register your interest for the tour and dinner, and to find out more about funding assistance for travel costs here. 
Business support
09.06.2022