Meet Robert Saville, Innovation Growth Manager at NIAB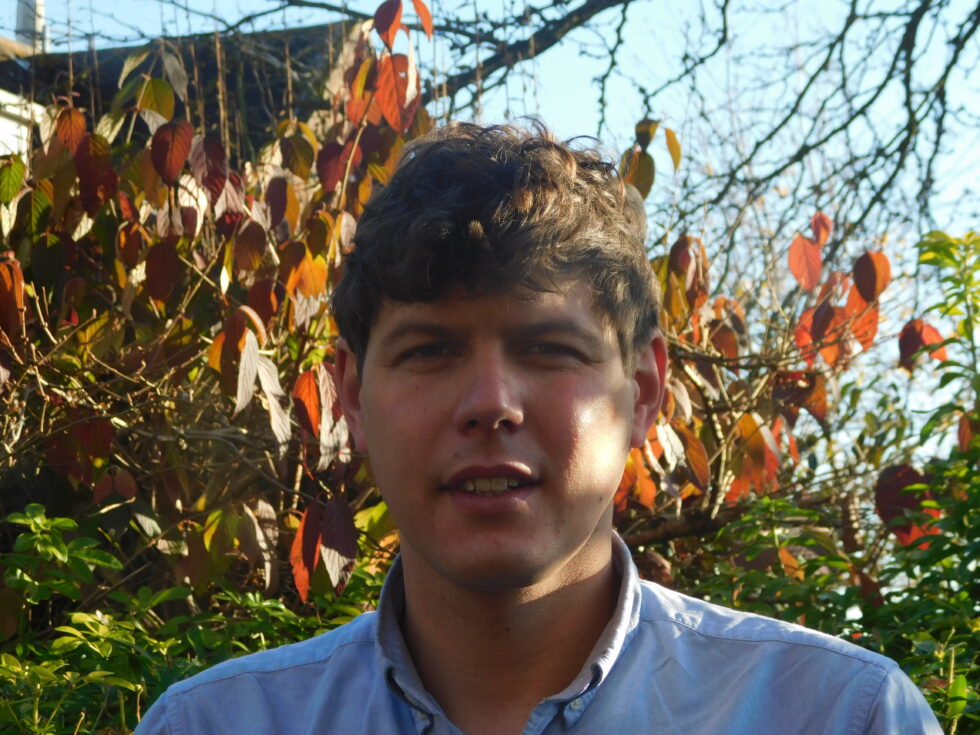 With a background in plant disease and helping introduce agritech solutions to transform horticultural crop production systems, Robert Saville is excited to be using his experience to support the whole plant-based food and drink supply chain in his new role as Innovation Growth Manager at NIAB.
How have you become involved in supporting food and drink businesses?
I have a background in research in horticultural and agricultural crops, specialising in plant diseases. During my time working as a researcher at NIAB, I worked closely with businesses to develop solutions for their challenges. My current role, as Innovation Growth Manager for NIAB at East Malling, is enabling me to broaden my remit and experience beyond a primary production focus and working instead to support innovation across the whole supply chain.
What is your special area of interest within the sector?
I have a special interest in agritech solutions in the horticultural sector. Over the past 10 years I have seen, and in some cases contributed to, a huge transformation in crop production systems and the adoption of agritech solutions. This leads to huge gains in productivity and sustainability for the sector.
I am excited to be working with businesses through the Growing Kent & Medway project which will provide further opportunities to continue to transform this sector, over the next 10 years and beyond.
What do you think is the biggest challenge facing the production of horticulture or plant-based food and drink in the UK?
Labour is a huge challenge across the food and drink supply chain, not least in primary horticultural production. Growing Kent & Medway are helping to address this through funding support for innovative projects in the robotics, machine learning and artificial intelligence fields, which could lead to a reduction on the reliance on labour.
Growing Kent & Medway are also addressing the labour issue by taking a longer view of what the workforce of the future needs to look like. We are identifying the training needs now so that by 2030 the horticulture, food and drink sectors will have the right trained staff.
Where do you see the biggest opportunities for growth in the sector?
Sustainability will be a major focus for businesses generally, and particularly in the horticulture, food and drink sectors, for the foreseeable future.
There is a great opportunity to develop sustainable practices in the supply chain ranging from the adoption of intelligent resource use, to implementing circularity opportunities. We are supporting this through local networking opportunities and through business grant support of innovative projects in this area.
Businesses may be left behind if they don't begin to consider the sustainability of their operations now and early innovators will be rewarded with a competitive advantage as consumers become increasingly environmentally conscious.
How does your role help businesses in the region and how can people work with you?
My role as Innovation Growth Manager is to engage with businesses and provide a link to the activities and services we offer across the whole programme. For example, if you have a new or existing product, service or process related to the horticultural, food or drink sectors but don't know where to take it next, I can advise which aspects of our support would be most relevant to you and help get your idea, product or service further along the road to commercialisation.
What can businesses look forward to from Growing Kent & Medway over the next 12 months?
We are currently developing a series of grant schemes for businesses which will be announced throughout 2022 and 2023.
Find out more about our grant funding opportunities
What do you think makes Kent & Medway an exciting place to be in the food and drink sector?
In the 'Garden of England', Kent and Medway enjoy a long tradition of growing fresh produce to supply the rest of the UK and, with excellent links to international markets, the rest of the world.
There is also a long history of food and drink manufacturing with Kent's produce. Not least Kent's synonymous relationship with beer made from the hop gardens of Kent. Looking forward, Kent is leading the way in Britain's burgeoning wine industry with the warmer climate and free draining soils very similar to those of the famous French wine growing regions of e.g. Champagne.
This is coupled with the research support offered by NIAB from vine to bottle through the demonstration vineyard for the UK climate and a wine innovation centre, making Kent and Medway a very exciting place for the UK's wine industry right now.
And finally, do you have any top Kent-based food and drink recommendations?
I spend my free time growing, cooking and eating great food and as a keen home brewer I also enjoy drinking good beer. Around Kent I enjoy discovering new pubs, including its many micro pubs (which all began in Herne, Kent, where the first micro pub was established). I live in Maidstone and was very happy when, back in November 2021, the Lock Meadow Food Hall was opened. Ran by Maidstone Borough Council, the food hall champions local independent businesses serving global inspired street food and is well worth a visit if you are in the area!
Get in touch
If you'd like to find out how our products and services could help support your business to grow, Robert would love to speak with you. Please get in touch today. [email protected]
Business support
12.06.2022