Turning 30 tonnes of food waste into profit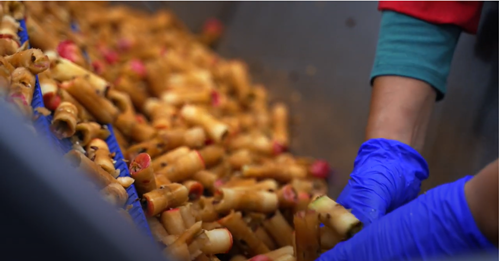 Food waste is a big issue within the agri-food sector and for Nimisha Raja, owner of Nim's Fruit Crisps, this latest investment will not only cut down her food waste but open up a new market.
Impact
Purchasing a larger-scale grinding machine will allow Nim's Fruit Crisps to repurpose around 30-40 tonnes of dried fruit and vegetable waste a year into ingredient powders. The move into the ingredients market could also expand their business by around 100-200%.
About the project
Growing Green grant value: £8000
Nim's Fruit Crisps has a strong focus on zero food waste as a business. For example, they used grade outs from their crisp production to develop a range of edible teas and drink infusions. However, the company had unavoidable waste such as apple cores and pineapple skins from some of their product lines.
They've unlocked a new solution by purchasing a specialist grinding machine and using their air-drying capabilities to grind this dried fruit and vegetable waste into powders which can then be sold as ingredients to add intense flavour, nutrients and colour to food and drinks.
This choice to branch out into the ingredients market gives them a larger customer base whilst dealing with these sources of food waste.
About Nim's Fruit Crisps
Location: Sittingbourne, Kent
Nim's Fruit Crisps is a manufacturer of 100% natural air-dried fruit and vegetable products. They started out as a healthy snack manufacturer but have since added products such as garnishes for drinks, edible teas, ingredients, and pet food to their range. Each product is made using just one ingredient with no additives or preservatives.