Dehusking machine for nuts creates new market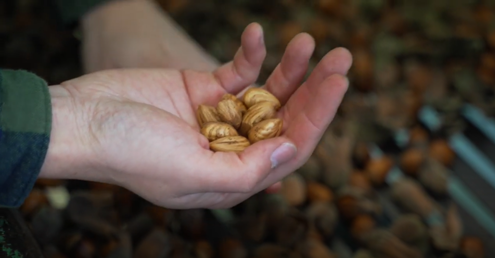 Tom Cannon, of Roughway Farm Online, is designing a new dehusking machine to efficiently remove the husk (outer leaf) from his cobnuts. This will allow him to segregate the processing waste to find new uses for this husk by-product. More efficient processing also means he can store his product in ambient conditions rather than storing unprocessed nuts in a cold store.

Impact
A bespoke de-husking machine can bring Roughway Farm both commercial and sustainable benefits:
Reducing the farm's refrigeration and energy consumption since nuts can be processed, dried and roasted sooner after harvest.
Segregating the cobnut husks and shell waste to be upcycled through a new market identified by the business.
Cutting food waste by avoiding breakage of nuts during the de-husking process.
This project is hoping to boost the local nut industry by contracting the use of the machine to neighbouring farms, so they too can benefit from increased processing efficiency.


About the project
Growing Green grant value: £8000
Tom is working with a British engineer to build a bespoke cobnut de-husking machine that will be able to deal with the different cobnut varieties on his farm. De-husking (removing the outer leaf) of cobnuts is currently a difficult process because it is very manual and nuts can be broken, which leads to food waste.

This new machine aims to safely take off the cobnut's husk with minimal damage to the nuts and separate the husk from the nut. By optimising this part of his cobnut processing, Tom unlocks possibilities to repurpose the husk and increase his business' through-put. It will also reduce energy consumption by cutting the amount of time his fresh cobnuts will need to be in cold storage.
About Roughway Farm Online
Location: Tonbridge, Kent
Roughway Farm Online is the e-commerce arm of the family-run farm and provides fresh British produce direct to the consumer. The farm grows raspberries, apples, plums, cherries, greengages, and Kent cobnuts.