Encouraging reuse rather than recycling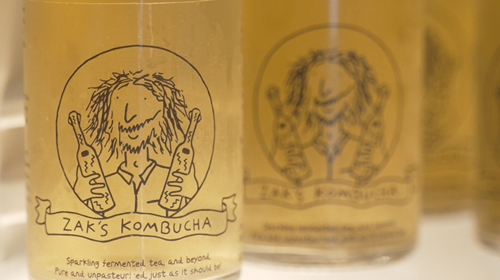 When it comes to the way resources are used and disposed of, reuse is always preferable to recycling. That's why kombucha brewer, Zak Tozer, from Zak's Kombucha, implemented a bottle return scheme for customers buying his beverages.

Impact
Increasing the rate of bottle returns from customers will result in a huge reduction in waste and CO2 emissions, since it removes the need to produce new glass bottles. Commercially, if the return rate is increased from 50% to 75%, that would mean that product could be bottled for an additional nine weeks without needing to order new bottles.
About the project
Growing Green grant value: £7,955.28
From the business' inception sustainability was at its core. Zak makes use of sustainable, often local produce, and a bottle return scheme was implemented to avoid waste. This project is looking to take it to the next level by introducing branded, screen-printed bottles to improve the return rate. From around 50-70%, they aim to increase the returns average to a minimum of 75%.

Screen-printing the bottles also has the added benefit of avoiding plastic labelling and decreasing work for the staff.
About Zak's Kombucha
Location: Wye, Kent
Zak's Kombucha produce a fermented drink that is traditionally made with tea, sugar and water. Zak is aiming to create a sustainable business that reduces waste, celebrates sustainable produce, and minimises carbon footprint by re-using bottles. He has created a price model that works by incentivising bottle returns for both retailers and customers.